About Us
The Beginning
Newcomers Club of Nevada County was founded over 70 years ago. The fourteen ladies who started the organization were looking to establish a club that would bring women of Nevada County together to make friends, to socialize, and to have fun. Today the Club has a membership of over 250 ladies. It has grown in size, but its original goal of friendship and social activities has stayed the same.
What's in a Name
While the name implies that our club is for newcomers, it goes beyond that and opens its doors to all ladies of Nevada County, no matter how long they have lived there.
What Goes On at Lunch
Almost every month, the club has a luncheon at the Alta Sierra Country Club. Ladies attending enjoy a delicious three-course lunch that includes salad, main course, dessert, and a choice of tea or coffee.
After a tasty meal with time to socialize, there is entertainment which is as varied as the interests of the members. The program might be light and fun or serious and educational – there is something for everyone. A Club favorite is the Spring Fashion Show featuring fashions from local shops modeled by club members. The Christmas luncheon is a beautiful affair with lovely tables, special culinary treats, and beautiful music that puts everyone into the holiday spirit.
What Else?
Newcomers Club of Nevada County sponsors a large number of Activity Groups that are open to members in good standing. There is a group that will fit everyone's interest (see our Activity Group Section on this website). You can meet new friends and have fun every week if you so desire!
Our Contribution to the Community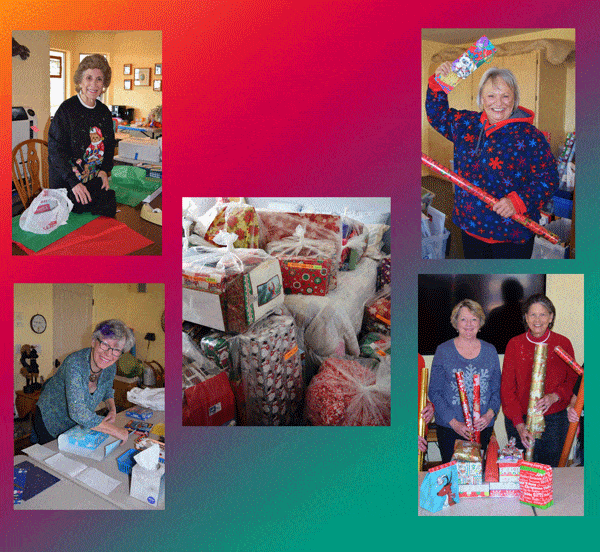 Our member shoppers, gift wrappers, and donors assured that Santa came to 132 Nevada County children in 2015, from local families and foster homes. We don't provide a "hand out," but a "hand up" to those who are struggling while they are learning new skills or have an income that leaves nothing extra for Christmas presents. Funding comes from our fun October Auction, our Christmas Luncheon and donations. Special items augment the purchases or provide a child's special wish or need. Selected agencies screen and send us families and foster children armed with a Christmas "Wish List." Our members shop for their "adopted" child and the wrappers send the gifts off sparkling and ready for the tree.
For a full description of the Christmas Family Project details and history, go here.
We have a Wish
If wishes could come true, then the wish of Newcomers Club of Nevada County is to provide a venue for women to find friends and fun through entertaining and educational luncheons, through fun activity groups, and through providing happiness for the less fortunate children in our county. We hope you will find this website interesting and informative and you will give Newcomers Club of Nevada County a try. You won't be disappointed.